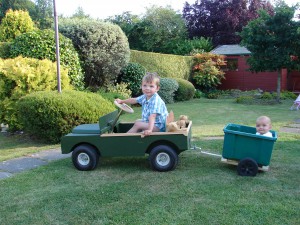 I was 19 days over sixty when our first grandchild arrived. A respectable age to become a grandfather I thought to myself.
So what was Grandad going to make for this new addition to the family?
There is always something you remember from your own childhood and for me it was not having the one toy I really wanted, a pedal car.
pandora earrings,pandora necklaces,pandora essence,
pandora jewelry
,pandora jewelleryOil temperature is easiest to regulate in a deep fry setting, and you can get more done at once.. pandora jewelry,pandora charms,pandora bracelets,pandora rings.pandora earrings,pandora necklaces,
pandora jewelry
,pandora essence,pandora jewelleryAlzheimer's disease represents another frequent cause of weight loss, especially among the elderly
pandora sale
. pandora jewelry,pandora charms,pandora bracelets,pandora rings.pandora earrings,pandora necklaces,pandora essence,pandora jewellerySAN FRANCISCO, CA JANUARY 28: Jude Siddall, owner of the Active Spaces in the outside courtyard at the Active Spaces located in the Mission district January 28, 2008 in San Francisco, California. pandora jewelry,pandora charms,pandora bracelets,pandora rings.pandora earrings,pandora necklaces,pandora essence,pandora jewelleryPeople with nickel allergies should ensure that they wear jewelry that is hypoallergenic, or nickel free. pandora jewelry,pandora charms,pandora bracelets,pandora rings.pandora earrings,pandora necklaces,pandora essence,pandora jewelleryTherese, Canada and Mexicali, Mexico
pandora jewelry
. pandora jewelry,pandora charms,pandora bracelets,pandora rings
Determined to revisit my early years I began to give some thought to what I would build and how practical it would be to use in a typical suburban garden. Who remembers those dreadful Tri-ang metal pedal cars where you fought with the pendulum pedals only to move a few inches forward and then a few inches backwards!!
To be pedal driven the gearing would have to be low and use easily obtainable materials so what better for the propulsion than a child's bicycle pedals and chain set driving the rear axle. And what would be the ideal vehicle for ease of construction and the low gearing :

Well of course one obvious choice was a Land Rover and for me the Series 1 certainly was an iconic vehicle in my early years. I was fortunate whilst visiting friends Chris and Penny in Cornwall to discover that he had a genuine Series 1 in his barn and so I was able to have a good look round and Chris took a few photograph's for me for reference.
For my model I decided that a separate body and chassis were a must. The problem with scratch building a monocoque is that if you get it wrong you may have to scrap all your work. I hoped that by building it in two parts it would be both more true to life and give me some scope for the inevitable modifications to the design.
I did some research on the internet and found some very useful material
I was very impressed with the Toylander but it is electric motor powered and for an older child.
Articles from an American magazine of the 1940's detailing the construction of toy jeeps by two different authors were the source of much inspiration. Not so much in terms of copying their ideas but I thought with access to modern materials some of the limitations of their designs could be greatly improved.
I also bought the Britain's 1/32 scale diecast model of the Series 1 Land Rover to provide me with a three dimensional subject as a handy reference and some detailing which would prove to be useful later.

Perhaps I should say at this point that I do have a varied background in both engineering and carpentry but I am no more than an enthusiastic amateur with a small workshop, DIY tools and a couple of useful friends for assistance.
One other thing I should mention is that there are almost no mechanical fixings (screws, nails, nuts and bolts) in the construction of the body which is separately mounted to the chassis. For this some experience in the use of a polyurethane wood adhesive would be invaluable. It has incredible strength and can "cure" in as little as half an hour but it "foams" in use and therefore careful application and accurate clamping are required. Oh, and by the way, don't get it on yourself as it sticks like the proverbial to the blanket. You could use other wood adhesives but for me they are too slow to cure.
I would also like to stress that throughout the build I was very conscious that the end product would be in the control of some very tiny and inexperienced fingers. At each stage of the design I debated the merits of or the inclusion or otherwise of certain features with regard to a risk assessment.
One item that has historically been a serious limiting factor to building a model of this type has been the availability of suitable wheels. Today you can purchase small pneumatic tyred wheels for just a few pounds each and this is where I actually started my project.
A visit to my local surplus supplies warehouse, produced 4  X 10" diameter wheels complete with bearings and pneumatic tyres for under £30. They also had many other useful bits and pieces including tools, timber and studding.
Having the wheels set the scene for endeavouring to "scale" my model. It is difficult to achieve perfection as you are using various components which are fairly readily available rather than purpose built. I downloaded some pictures of Series 1 Land Rover's from the internet and then compared the size of my wheels to set the scale for all the other measurements. This process seemed to work out fairly well.

Next I made a few templates to determine the length and width of the model and this confirmed that I was on the right track.

At this point I decided to turn my attention to the chassis and running gear. I badly needed the pedals to see how they would fit in the chassis. It just so happened that we were off to visit our good friend's Ineka and Teus in Utrecht. I knew that they had recently purchased new push bikes so off we went to their local Bicycle shop.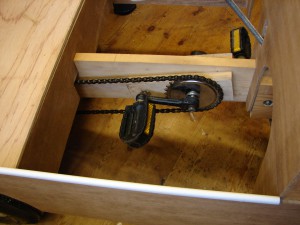 Here Teus explained to the owner that I was looking for some pedals from a child's bike. The owner said he had nothing in the shop but to come back in a couple of days and he would have something. Sure enough when we returned he had a complete kiddies bike which he said I could have for nothing, what a helpful Dutchman.
(second hand kiddies bike's are easily sourced for just a few pounds on the world wide web or even from your local recycling point)
Returning home I set about making the "H" frame which forms the chassis. I hope you can see from the photograph's how this was achieved but as the actual measurements will depend on the parts you have to work with I have not stated them here.
Probably one of the most complicated elements to get right is the steering and this was fabricated from readily available 15mm plumbing fittings and copper pipe work. The stub axles are made from 12mm studding with some mild steel track rods and tie rods.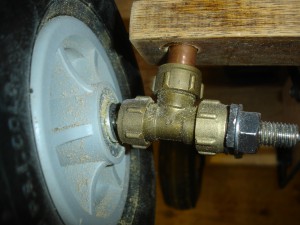 I think steering geometry is too vast a subject for this article but if you are able to create the key elements of castor, camber and king pin inclination so much the better. If not don't worry too much, after all it is a toy.
The final part of the running gear is the rear axle and drive sprocket. The rear sprocket was disassembled from the "triple clanger" of an adult bike and has 30 teeth. The front sprocket also has 30 teeth and the length of each pedal crank is 100 mm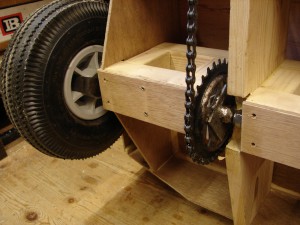 This time we were off to visit friends Li, De and family in South Wales. They were our neighbour's when we lived in Swansea in the 1970's and Lionel is a dab hand at a spot of welding. I got Li to weld the sprocket onto a length of 12mm studding fitted inside a piece of steel tube. At the other end he welded a "U" bracket fashioned from mild steel which locates into the "spokes" of the wheel. He also welded a short piece of mild steel on to another piece of studding which would form the steering column and drop arm.
Whilst there we also fashioned the steering wheel from a piece of 22 mm WBP ply. Lionel had a jig for cutting circles which we used in his band saw although you could also carefully cut round the circumference with a jigsaw

Returning home the pedals and chain wheel were fitted next, the chain cut to length and here we have the rolling chassis

Back to the construction of the body which is made entirely from one 8' X 4' sheet of 6mm WBP ply and small softwood battens, all secured with polyurethane wood adhesive. This is both an extremely light and incredibly strong structure. Here I made templates from cheap hardboard for various sections in order to get a good fit.

Again I hope the photographs are more useful than a thousand words in demonstrating the construction

The final assembly simply consisted of mounting the body on to the chassis and securing the two parts with two strategically placed screws.

Final finishing for me has always been a nightmare, hours of painstaking work being ruined in just a few seconds.
Having made a pretty thorough investigation into a suitable paint and colour I could only find cellulose in the traditional Land Rover Bronze Green. Here my little Britain's model earned its' keep. I took the model off to my local DIY Store where the chap in charge of paint scanned the little model and came up with the perfect colour match. I decided on the satinwood as this is much less likely to show any imperfections and is easier to touch-up in the event of some less than perfect driving skills. The chassis was painted with a matt black timber treatment.
The seat base was cut from a sheet of polystyrene insulation and then covered in a piece of beige vinyl secured with the polyurethane wood adhesive. The seat is not fixed to the body but is a snug fit between the side panels. Under the cushion one screw secures the seat frame to the chassis which facilitates some adjustment for growing legs.
     
Building this model kept me out of mischief for many hours and as you can see it is being put to good use. The gearing was critical and Charlie is able to drive the Land Rover around our locality for over half a mile with ease, including a section of gravelled road and some mild inclines.
The total cost has been well under £100 and the fun I had building it …….PRICELESS
A few dimensions which may be useful:-
                                                            Length                 Max. Depth
MAIN CHASSIS MEMBER
made from 22 mm softwood             1000 mm               150 mm
BODY SIDE MEMBER
All body panels 6 mm WBP Ply        1115 mm               200 mm
BULKHEAD                                        595 mm               360 mm
REAR INNER WHEEL ARCH            370 mm               190 mm
FRONT HEADLAMP PANEL             595 mm                200 mm
TAILGATE PANEL                             595 mm                200 mm
STEERING WHEEL DIAMETER…… 220 mm
Made from 22mm WBP Ply
Addendum
As Charlie is now some 41/2 years old I thought that it was time to make his visits' under the bonnet a little more interesting so I have added an engine. The intention here was to introduce him to some of the key components so I have a cylinder block and head assembly, a carburettor and inlet manifold, spark plugs, a distributor with plug leads, an ignition coil, an exhaust pipe and a radiator fan. I figured that with these components it was possible to describe in very simple terms the fundamentals of the internal combustion engine …. The fuel goes in here, the cylinders compress the fuel, a spark from the coil causes an explosion, the burnt gas goes out of the exhaust pipe and the fan keeps the engine cool ….. simples. I think if he can learn that he will know a good deal more than many drivers who have passed their driving test today.
  
Having written this article as a continuous piece I have to admit that having started the Land Rover project soon after Charlie was born I was blown off course by often more pressing needs. The first of which was a baby walker.
          
Here again you can see my youth influencing the design in the form of a Lorry typical of the immediate post war styling.
The next interruption came as we had the need to transport Charlie around one of my favourite events, the Great Dorset Steam Fair
www.gdsf.co.uk
His little pushchair was certainly not up to the task and I though it was important to get Charlie in to the spirit of the event at a very early age.



This is my interpretation of the Leyland Marathon as used by the British Army and here is Charlie with the owner of the real thing.

This "pushchair" has been much admired on its various outings and received many enquiries as to where it was purchased. I could have possibly sold hundreds. However as that sounds awfully like hard work which I have done for some 48 years I think all the fun for me was in designing and building the first one.
Like my forebear's of the 1940's I hope that this article will help to inspire other dad's and granddad's and perhaps use some of my experiences to help in constructing their own creations.